2022 Training Packages for "Pedal Britain" Clients
Pedal Britain's tours have been designed to be accessible, but still require a reasonably good level of physical fitness and with the right preparation will be an experience to cherish. However, the right preparation isn't simply riding your bike at weekends and "putting in the miles"; while you will undoubtedly improve your fitness, your improvements will inevitably plateau, and motivation may wane, and let's face it, you want to enjoy not endure your adventure.
An important part of the Pedal Britian experience is the social bonding, riding together as a mutually supportive Team, so the ability to ride for over 7 hours at a pace of between 11 and 13 mph is important. Some days you will ride a little faster, some days a little slower, and you will always have the support of the Guide/Chaperone, you'll never be alone, unless of course you wish some personal space.
For Lejog you will encounter hills, from the short, but steep lanes of Cornwall, the climb to Dartmoor and The Mendips, the climbs across the valleys and peaks of Wales, to the long but potentially fatiguing hills of the Lake District and the Scottish Highlands. Expect to be able to need to climb upto 7,000 feet per day. For the Ireland End to End, and the Scotland NC500 expect more of the same !
New for 2022 is the France End to End, which requires the same level of commitment and training to be fully prepared. Riding across France is different (apart from being on the right hand side of the road). It is bigger in every sense. The rolling plains of Normandy and Brittany, the majesty of the Loire valley, the long climbs to where eagles dare in the Massif Central, the vineyards and lavender fields of Provence and of course the epic Mont Ventoux, Gorges and Mountains of the Alpes-de-Haute-Provence . The food and wines become more Mediterranean, the pace of life slower, the roads generally much better than the UK equivalents. You'll want to "savourer les joies de la vie" rather than "souffrez voter voyage".
The good news is that Pedal Britain has carefully selected routes where none of the climbs in themselves are insurmountable, but cumulatively over the days they can take their toll if you are unprepared for hills.
Preparation for the long days and climbs is therefore important for your enjoyment of these iconic challenges.
At Cycle For Fitness Ltd we understand that you are busy people, your training needs to take into account family and work commitments and focus on what might hold you. back, whether that is long days in the saddle or elevation needs to be climbed each day.
With that in mind, and our own experience of tours and as Pedal Britain guides ourselves, we have designed plans exclusive to the challenge, taking the principle of gaining the most for the least effort, no more junk miles or wasted training rides, every session has a purpose and an achievable objective that we monitor on a regular basis to ensure you are progressing accordingly.
We divide the plans into three.
If you are new to cycling, or struggle to maintain a pace of between 11-13mph over 6 hours, then the 3 month "Go to Distance" plan is for you.

If you are generally fit but still worried about your ability to handle the hills, then choose the 3 month "Mastering the Climbs" plan
Or as a bolt-on, or you need extra help, choose the "Raise Your Game" monthly subscription plan
We realise that is maybe a lot of take in at once, so why not book time for a
30 minute free, no-obligation consultation call
with our head coach, Grant Goodman. We will discuss your goals and concerns, provide advice how to prepare for your adventure in terms of kit and equipment, and based on your current fitness level and experience, what training you may require to get to into the best shape you can.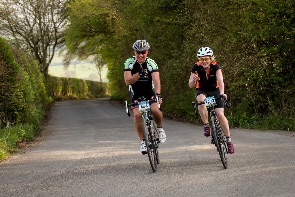 Go the Distance - 3 Months
This is a foundation plan to build depth of fitness. The plan includes indoor- and road-based workouts to help you build resilience (what we call "aerobic fitness") and stamina, plus skill-based exercises to help you become highly efficient on the bike.
With this plan you will achieve significant benefits to your endurance levels; you will be fitter with greater stamina and confident to cope with whatever the day's ride has in store.
Once completed, a natural progression is to the "
Master the Climbs"
plan.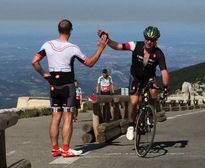 Mastering the Climbs - 3 Months
This plan prepares you for the climbs you will meet, helping you savour their challenge.
You do not have to live in a hilly part of the world for this plan as we combine indoor sessions that improve your ability to climb steep hills, plus sessions that build muscular endurance and resistance to fatigue for the longer hills.
Note that if you have any doubt to the depth of your fitness, for example there is a significant decrease in your pace or power in relation to your heart rate over a training ride, or have yet to do a four hour ride, we would encourage you to prioritise the "
Go the Distance"
Plan
.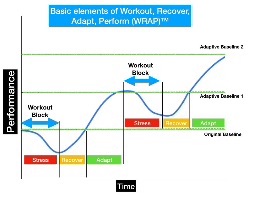 "Raise Your Game" - 3 to 6 Months
This is a monthly subscription based plan that builds on your fitness with three incremental training blocks leading upto your Pedal Britain ride. Either for individuals who
Need extra help beyond the "Go the Distance" and "Mastering the Climbs" plans and need more time to prepare, or

Have a reasonably good level of fitness, but feel they need to add structure to their training or the extra guidance and motivation that a cycling coach offers.
In each instance, each month's plan builds upon the previous month, ensuring continuous improvement and progression.
"I started using Cycle for Fitness 6 months ago after an initial consultation with Grant about a planned Lands End to John O Groats ride. My cycling regime prior to working with Grant was focussed on trying to do more and more miles and in 2020 I clocked up around 5000 miles. I was rather cynical with the initial training plans that Grant set. It was significantly less miles, each week with a new focus on data such as heart rate and cadence. Three months later after seeing results Grant introduced Power and the results have been astounding. Every week I feel that I am learning how to cycle more efficiently, faster and I now enjoy hills rather than fearing them. I feel that Grant is with me on every ride because he is constantly looking at my data and providing significant support. His communication is excellent, very motivating and he always takes the time to explain my many questions. The bottom line of all this is that after 6 months my speed, power and efficiency have all significantly improved. But more importantly at the age of 54, cycling with Grant's support and guidance has tangibly made me fitter and healthier."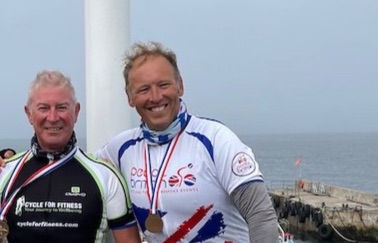 Pedal Britain 2021
– Steve, Lymm
"I am signed up with Grant at Cycle for Fitness and he has been my cycling coach since September 2020 helping me to prepare to cycle from Lands End to John O'Groats over 14 days in August 2021. I had limited cycling experience before then and wanted some professional input to best prepare me for my challenge I am very happy with the service and input provided - professional and knowledgeable, but also delivered with humour and a friendly manner, and I can see and feel the massive improvements in my cycling performance over the last 9 months. The acid test is still to come, but I am confident I shall be rolling out from Lands End in August as well prepared as I could be for the 14 day challenge ahead."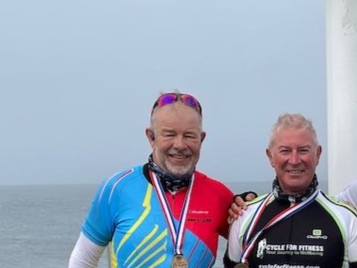 Pedal Britain 2021
– Clive, Portishead
Grant's approach to training is next level. His dynamic and flexible training programme meant I could really push myself further than I imagined. Not only a genuine person but a trainer that unlocked the best of my ability! Couldn't recommend highly enough!!!"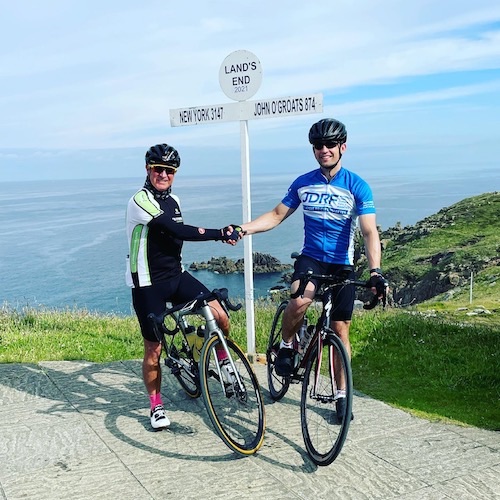 LEJOG + 3 Peaks
– Mike, Cheshire
The choice of plan is yours, however if new to cycling you may simply choose to follow the logical progression of the Go the Distance Plan, followed by the Mastering the Climbs leading you to the Raise Your Game Subscription plan to take you upto your ride; in each instance we will aim to be as flexible and pragmatic as possible to ensure that the plan is right for you.
After all, we want you to be in the best shape you can be; truly enjoy each day's ride and complete your challenge with smiles..