Tuesday, July 16, 2019, 11:18
I was reading that the biggest barrier to people taking up cycling was fear of injury on our roads. So while the statistics show that the average cyclist would need to ride 1,000,000 miles before injury caused by another road user (by the way the odds of serous injury through collision with a pedestrian is on par with being hit by lightening) there is a fear culture that seems to have somewhat gripped our nation. The press, Channel5 for example are all too keen to promote the idea that cyclists are the scourge of our streets, when the opposite is true, bet getting more people to cycle will hugely benefit us, and the subsequent video by Chris Boardman was aimed at giving the debate some balance.
However, the stark reality is that 85,000 are dying prematurely in this country due to our sedentary lifestyles in the form of cancer and cardiovascular problems (obsesity has recently overtaken smoking as the main cause of cancer !).
So is cycling really a solution, or at least part of it? I asked a few people about the health benefits of cycling, and below are a few comments. I was interested to hear that it is not just physical health, but also mental health that improved.
Add a comment, let me know what you think ?
Weight Loss.
"I went from 16 stone to 14 stone and just able to do 6 miles to Deloitte Rab in a year age 49 and raised £10K for Wiltshire air ambulance". Andrew warminster
Helping Overcome Grief
"Buying an bike and completing Ride Across Britain were some of the best decisions I ever made. I overcame grief, inspired my family and discovered a strength I didn't know I had". Kathryn, London
Fundraising while minimising the risk of Diabetes
"I bought a road bike 18-months ago after having had a hybrid. With the hybrid I'd ride 20 miles and be ruined the next day; 3 months further on and I was given the fantastic opportunity to ride for the Balfour Beatty team, raising £5,800 for my chosen charity (Team raised over £200K!); 18 months later and I've completed a longest/highest ascent double solo ride of 125 miles and 11,020ft, completed my highest single climb of nearly 3,400ft but perhaps more importantly made lots of new friends, enjoyed great rides and experiences, lost over 2.5 stone, joined a local cycling club. The health and fitness gains are important though, and I hope will keep the weight off and minimise the risk of developing type-2 diabetes which has affected my family". Mark, Halifax
Health, Emotional Wellbeing and Mindfulness
"I got back into cycling at the grand old age of 55 (I haven't been on a bike with gears before - the last one was a Chopper!) after a particular emotional and stressful period of my life and found a whole new world of health wellbeing, mindfulness and making some amazing new friends along the way...oh and of course being able to eat cake with no guilt or health issues. I love it and go virtually everywhere on my bike now and the best bit is I have raised £2,500 to help health problems, in my case, cancer research, over the last couple of years - what's not to like". Sandra, Swinton
Stronger, Faster, Sanity Intact !
"I used to ride a lot as a kid. Holidays, to and from school. Then I came back from uni, got a car and just forgot about bikes. I switched jobs in 2012 and when the Olympics happened I got caught by the bug. The ultimate cliche. Started commuting, increasing distance. A disastrous ride to Brighton with a friend (6 punctures, one pissed off wife) meant I got a faster bike, more lycra and worked on my fitness. Lost weight, got stronger and faster. Now I find that it is hard to go without a ride. It's the only thing that keeps me sane". Eugene, London
---
Friday, June 28, 2019, 14:11
Since we started working with clients, businesses and charities such as the Prince's Trust, a common theme that rings clear is that giving people a "Plan" is simply not enough.
Human nature is full of good intentions, motivation is high at the outset when we promise ourselves that we will get fitter, become healthier and improve our overall feelings of wellbeing. But soon that "plan" becomes a yoke and a burden that we'd rather avoid. We look at the plan, then look away hoping to find multiple reasons to put it off, "until tomorrow".
We join gyms (especially after Christmas) full of optimism and intent, but after just a few visits, our motivation fizzles out (let's face it, I don't want to knock gyms, but their business model is based on you doing just that). Personal trainers ? yep they work, but you need to fit in with their schedule and the costs are high.
So is there another way?
This is why the Cycle For Fitness approach is unique. We combine the three pillars of success, these being
(1) Experience,
(2) Personal Support and
(3) Science-based Plans, to create fitness programmes that are designed with you at the core.
By taking our programmes you start a sustainable journey to fitness and well-being, opening up to you only only the recognised health benefits such as reduced risk of cancer and heart disease, lowering of blood pressure and weight loss that cycling has been proven to offer, but the feelings of freedom and wellbeing that comes from cycling with intent or cycling for the sheer joy of it.
If that resonates with you, check out our range of services
---
Friday, June 28, 2019, 13:28
Apparently it has been a little on the warm side in the UK the last few days, some might say even "it ain't half hot!". If you are sitting there wondering what it might be like to cycle in this weather, perhaps this might be your first summer of cycling, or you've been unfortunate never to experience the joys of cycling in the sunshine, it would be remiss of me not to address not only the pleasure but also a few snippets of advice on how to prepare for cycling during a hot day.
So to begin with, you draw the curtains (or whatever) and smile at a cloudless blue sky, the birds are singing, bees are humming and the world is spinning on a slightly more relaxed axis. Life is good.
You decide that there can be no better way to get that 'feel good factor' than by jumping on your bike and go for a ride, after all you've spent weeks if not months wrapped up in cold and wet weather gear, had to clean the muck off the the bike after every ride or looked earnestly out of the window and then at your "summer bike" pondering on whether to face the lashing rain, cold winds, icey roads or snow filed driveways. No, it is time to get the "good weather" gear on, and ride your best bike, it's going to be brilliant, what could go wrong ?
Click on the title to continue reading for more...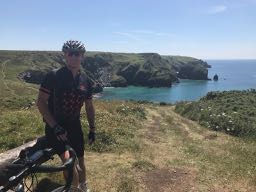 ---
Thursday, June 20, 2019, 14:30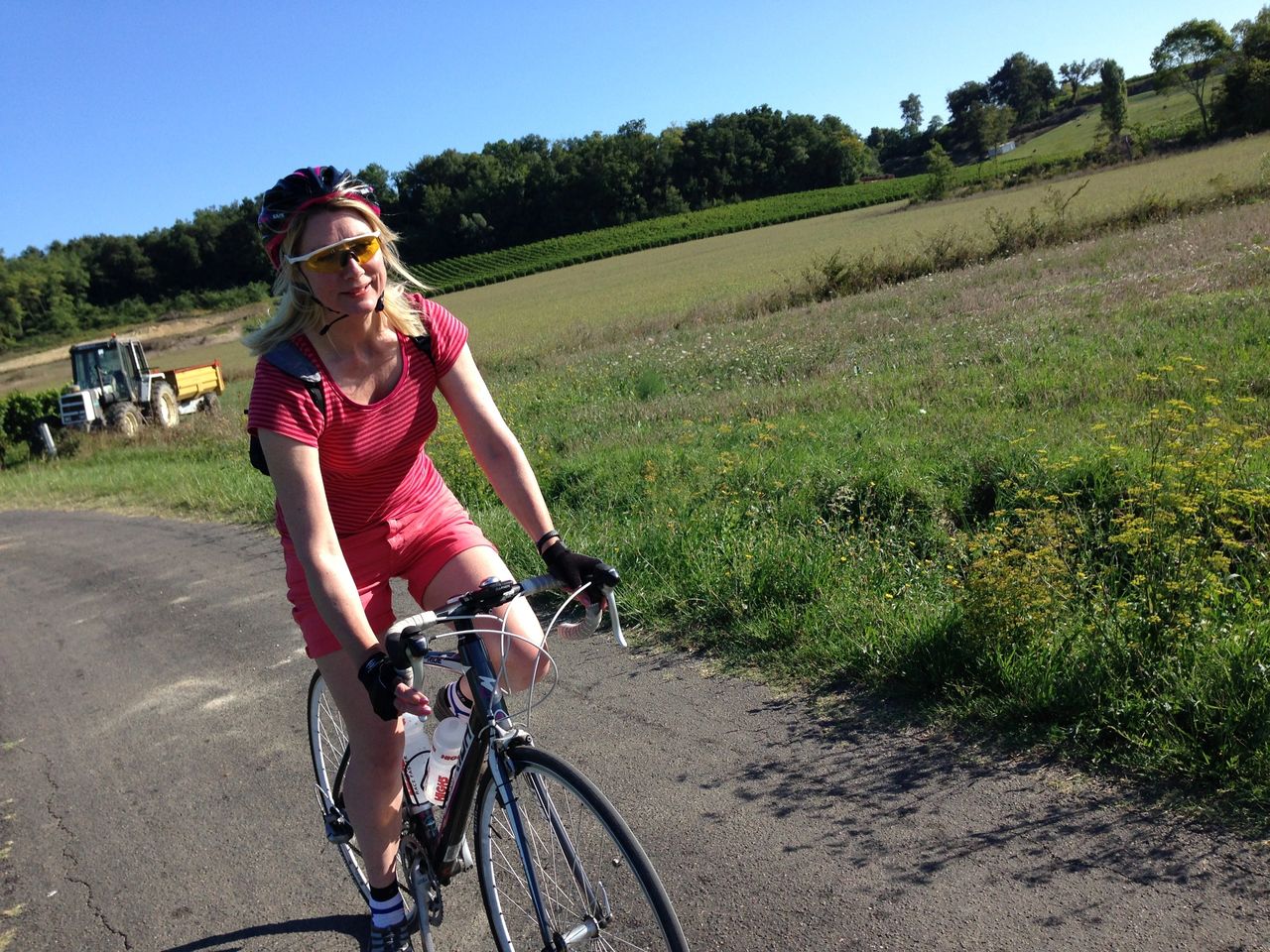 If you are reading this then I am hopefully making the assumption correctly that you have some degree of interest in improving your fitness, perhaps shed a few pounds in weight, would like a little more wellbeing in your life...and that you have at least some curiosity towards cycling (or cyclists).

If you have yet to read anything about Cycle For Fitness, we are all about helping people who would like to start or maintain a journey towards a better them. Why do I say journey ? Because it is based on the premise that where you end up will be different from where you started. That you are not interested in quick fix diets (possibly tried that before) or interested in trendy or short-lived faddish workout routines. This is about you, your personal goals, your personal ambitions, your determination, your achievements in making sustainable lifestyle changes.

We are talking about those that make you feel more alive, sleep better, recapture the ability to do things you once did when you were younger. It's about reducing your risks of heart disease, cancers and other forms of age-related and obesity related illnesses.

Our role is simply to be your facilitator, your coach, your guide along the journey, and our tool is the humble bicycle, fresh air and feelings of freedom.

So where are you on this journey ? I like to think there are a couple of places, there may be more, but here's few starting points
Stage 1: I hadn't really thought about it until now.
You possibly read and clicked through one of our sponsored links, or we came up on a Google search, or perhaps someone you know directed you to our Facebook page and website. You might be thinking "I am not sure what this is all about, and anyhow I thought that using a coach was a bit you know, intense, just for the fit ones, or the ones who can afford a personal trainer". Or you may be thinking "It all seems expensive and time-consuming, who can afford the time to go cycling, and anyway aren't the road a bit, err, busy and dangerous ?"

Well these are not uncommon thoughts and preconceptions. We don't charge membership fees, it's pay as you go, and as a coach, none of that "you must do" type of stuff....this has to be sustainable, so it's at your pace. I'll talk more about why we are different and my passion to help people through cycling further below.

But is it safe ? If we look at the statistics produced by the Bicycle Helment Research Foundation (see note 1) , it show the risks of cycling relative to other activities. based on the number of casualties in the UK, for every cyclist fatality, there are 7 swimmers, 29 horse riders, 4.2 tennis players, and where there were 138 cyclists killed on UK roads, this compares with 3,000 other road users, and 157,000 heart desease. The University of Glasgow report (see note 2) concluded that cycling to work can cut your chances of premature death by 40%. Now there will always be idiots on the roads, cars and bikes, but by understanding how to ride with confidence and with caution can reduce the risk of injury to yourself and others. As a qualified British Cycling coach, your safety is my highest priority.
If you need a little more time to understand if cycling could be the answer to your quest for fitness and mental wellbeing, or you see for the first time the possibilities that you might actually enjoy the freedom that only road cycling offers, I recommend reading through a few of our testimonials, and then perhaps people's experiences on the health and wellbeing benefits of cycling. If you do, and want to take the first step on your journey, come back and talk to me at no obligation.

Stage 2: I would like to do something, but there are too many options, I don't know where to start.

You have reached a point of greater self awareness, you know you can be a better you, but too many options create confusion and possible paralysis in terms of making a commitment to act.

If you are at this stage, you need a no-nonsense, simple plan with as much hand-holding as you can get.

As you'll read below, I was at this stage, but once I decided that cycling was for me (knee problems prevented me running), I started slowly, relearning how to ride a bike, first just a few miles, but by building confidence slowly it quickly became enjoyable, the sun on your face, the wind at your back, able to notice the beauty of the land and the sight of wildlife set my soul alight, I would return from rides with a grin from ear to ear. Sorry, got carried away there :-)
I have not forgotten those first few steps, those first couple of months where things began to click into place, and so have made sure that our plans emulate this with slow progresssive steps, I want you to feel the same energy and passion. That why it is called the Grin Factor !
Stage 3: I have tried and failed with other forms of exercise and personal trainers, what's so new here ?
Okay, so I was approaching 90Kg back in 2011, the doctor had prescribed medication for a pre-diabetic state, my Adrenalin and Cortosene levels were off the scale due to stress, unhealthy lifestyle and generally being overweight. One doctor even was taking me down the pathway towards brain surgery as he thought I had cancer of the pituitary gland. Things had to change ! I bought a bike and ignored the few months of ridicule as the "fat bloke on a bike", I started slowly, 20 mins, 40 mins, 10 miles, 15 miles.....building slowly and gradually. My weight came down swiftly, my feeling of self-esteem rose, I rode further and faster to the point where I though I could take on a few challenges. First was London to Paris, then a big one, I entered a 500Km ride around Mallorca in 3 days with Stephen Roche (he's a ex-pro who won the Tour de France, World Title, that kind of thing). My wife looked at me and decided if this wasn't going to be a disaster that I needed a coach. Enter Tom Kirk, a professional team (Morvelo Basso) cycling coach with a PhD in Sports Physiology and Nutrition. Using Tom's scientific approach my fitness shot up, I lost more weight, and well really enjoyed Mallorca. I was so taken with Tom's easy to follow and simple programmes that when I decided to do something similar, but for those just at the beginning of their fitness journey, I enlisted Tom's help and asked him to be our technical adviser.
Getting to the point, Cycle For Fitness is therefore a combination of Tom's scientific based programmes and my own personal experiences and training as a certified British Cycling coach. Together we make it personal, with the plans centred on you, irrespective of your starting point, with workouts that are designed such that you can do them at your convenience and pace of improvement. I can't be everywhere so we use a little technology to make this an online experience, also called eCoaching, however not forgetting how important it is to speak to someone about a problem, how you are progressing and have someone to be there and encourage you, our plans use the good old telephone, yes we speak once a week....or as and when you need to speak to me.
When we speak we can talk through common issues such as safety, equipment, what to wear, how to prepare for longer rides, advice on the type of bike itself, etc. I will also use a little bit of technology to find suitable cycling routes locally to you that avoid busy roads (and steep hills, unless you want to challenge them).
In all, this means you get the benefits of a personal coach that is always available and one that can empathise with exactly what you are going through. I hope that makes more sense now that when we say we are different, if not unique, you can see why.
Stage 4: I already cycle but really want to be a little more confident, go a little faster without collapsing in a heap afterwards
No problem, plans include structured workouts that build fitness based on your current fitness levels, using either rate of perceived effort (RPE) or using your threshold heart rate and heart rate zones.
We include the TrainingPeaks App basic account for you to follow and capture your weekly progress. Each workout is designed to either build stamina, develop strength or lose weight (or combination of these), and by using RPE or heart rate zones we ensure that you neither undertrained nor overtrain, or reach levels of fatigue that might cause you to become unwell through overexertion or injure yourself.
This means that you exercise in your sweetspot as much as possible.
If you are nervous on roads, we can arrange an accompanied ride to help you develop your road craft, the cost of this is dependent upon whether we come to you, or you come to us either here in Oxfordshire (OX49) or Cornwall (TR27).
Perhaps you find yourself wanting to do a charity ride or one of the many organised rides that occur each week, then we can set these as specific goals and plan accordingly to accelerate your fitness.
Therefore we concentrate on making sure that every workout is done with a purpose, whether that is to burn fat, to increase your aerobic fitness or reduce weakness that you may have in your cycling technique.
Stage 5: I get it, how much, what do I need, and when do we start !

That's cool. So first we need to talk about your current fitness levels, your goals, ambitions, commitments, etc to decide what plan is right for you....unless you already know !
What you need is a roadworthy bike, helmet, basic cycling attire, and determination. If you have a heart rate monitor then so much the better, though not essential during the early stages.
What else ? The willingness to commit 2 x 1 hour sessions midweek and a few hours at weekends, plus you value your health enough to invest £2 a day towards your journey to fitness for two months for the first programme.

You can place an order using our secure shop, either debit card, Paypal or Apple Pay. We will then set up your account, get you onboarded, then we've off !

Stage nah: I'm really not that interested, just browsing

That's okay, it's better to decide not to do something than go into it half hearted. That's a positive decision.

Notes

1. Bicycle Helmet Research Foundation, Relative Risk in Cycling http://www.cyclehelmets.org/1026.html
2. University of Glasgow Report : CYCLING TO WORK MAY CUT YOUR RISK OF PREMATURE DEATH BY 40% https://www.gla.ac.uk/news/headline_522765_en.html
---
Thursday, June 20, 2019, 14:24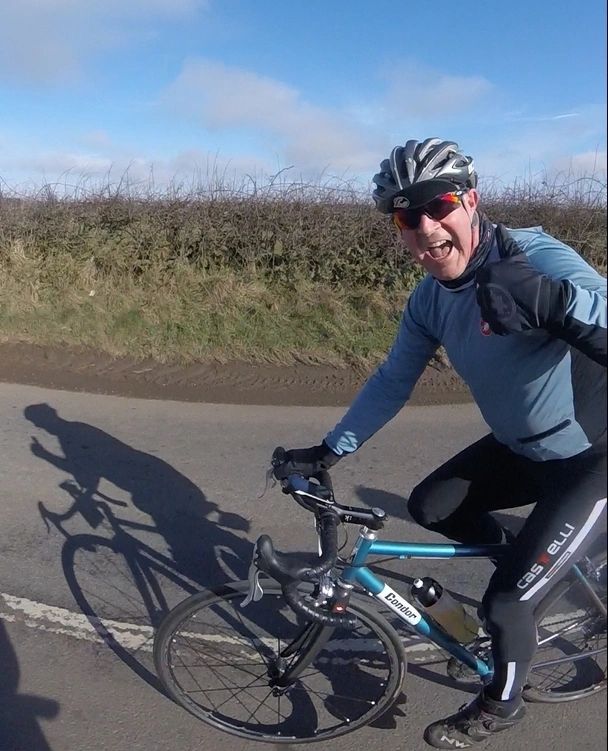 Well first of all, let's dispel the myth that to cycle you need to be one of those lycra-clad weekend road warriors.
Just a few years ago I would have fainted or broken into a cold sweat at the thought of getting on a bike and pedalling on the UK's roads....and allegedly for fun ! But as a "middle of our years" type of person, taking up cycling has been more than just a means to roll back the years, it's been a life changing experience, reversing the descent into type-2 diabetes and ill health, giving me a new perspective and lease on life.
Even during times when motivation is low, or when it seems a bit cold or wet outside, within a few pedal strokes the sheer joy and sense of freedom reminds me of why I took up cycling as my journey to fitness and wellbeing.
Looking back, when the opportunity for a career change arose, I created Cycle For Fitness, took my certification as a British Cycling coach and working with Dr Tom Kirk created programmes that are designed for people who would otherwise feel intimidated by the thought of cycling. People who would think it is too late in the day to take up a new hobby or they feel they are too unfit to start make a positive change. However, from my own testimony, it is never too late.
If this resonates with you, if you would like to regain the kind fitness you naturally had in your twenties and thirties, if you enjoy the feelings wellbeing, pick up the phone, message me, email me or request a callback on our contacts form.
We are here for you, the first step in any journey is the hardest, take a deep breath, contact me for a free, no obligation chat.
grant@cycleforfitness.com
---